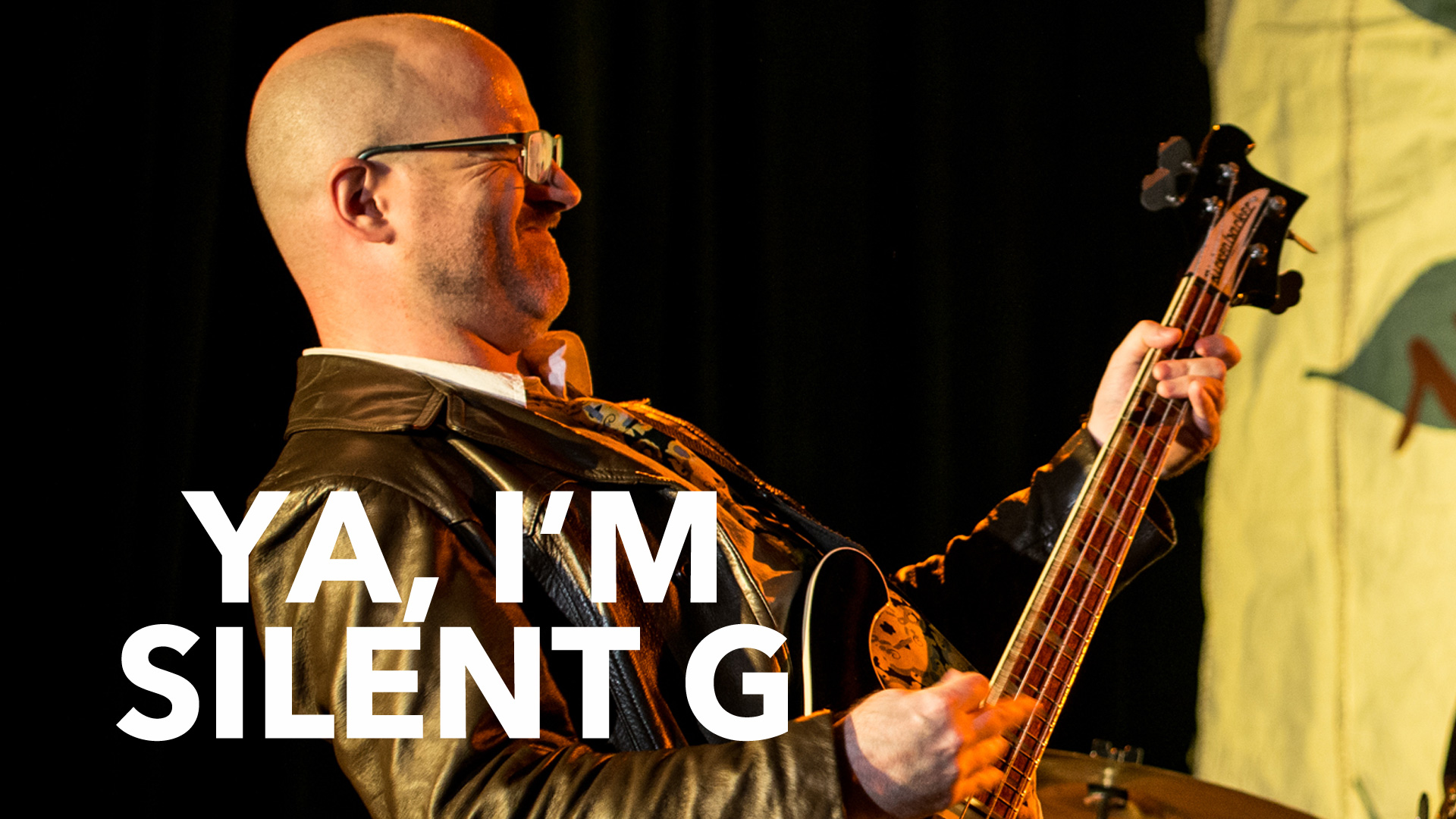 Silent G – it's an industry name. That's who I become this September at the Toronto International Film Festival.  My big ol' Charlie Brown noggin will soon be filling up a movie screen on King St. in a supporting role in writer-director-musician, Kris Legstrand's, offbeat comedy, Songs She Wrote About People She Knows.  It was a surprising opportunity for a guy who hasn't defined himself as an actor for a very long time and Kris took a big risk casting me with scant film experience so we'll see shortly if he's rewarded for it. If I'm terrible, there's always an empty bar full of no one waiting to not listen to my songs. I'm exaggerating for comedic effect…? Awkward pause. 
How did I come to be a man named Silent G? The immediate plot line is simple: Kris and I have been acquainted since I moved to Vancouver. We had mutual friends and would run into each other in the street and eventually somewhere between Harry Nilsson and David Mamet, we became chummy. And then I guess he wanted a burly bald guy in his movie. 
The prequel is more complicated. My creative ambitions have always kept me zigzagging. My heart pulls left and right instead of straight up by the tail of any one rocket ascending to success. I wasn't Eddie Murphy cold-calling the SNL offices at 18, I was a thesaurus and a couple class notches away from being a dilettante.  Scratch that - I just watched the
30 For 30
about Bo Jackson so you'll excuse me for now revising this lifetime-held self-deprecating opinion into "I was blessed with natural talents in a variety of fields". It's liberating to be arrogant once in a while. Bo knows what I mean. Of course what I end up doing with those talents is where the revisionism stops because the results are too easily measured by my shared accommodation and paltry cable company paychecks. 
After high-school and several years of musical theatre, I started writing and directing plays. Fun, right? It was fun. It was also stressful and maybe more than I bargained for at that age. Directing my own scripts seemed the most efficient way of rallying a group of friends into a company of bandits/actors/comedians/whatever-we-thought-we-were. It also meant irreparably changing the dynamics of those friendships. Now I was the bossy guy telling them what to do. Sometimes they'd scoff or mock to let you know you don't have any authority over them and in the same afternoon come to you looking for answers to extratextual questions. We were earnest and self-serious enough that these scenarios were in play instead of us just drunkenly whipping racquetballs at each other's nuts but the former was bound to take the shine off the juvenile fun of the latter. You kind of wished you had Daniel Stern to narrate
Wonder Years
wisdom for you but we were left to struggle through it. I think we actually did some playful if precocious work (including one script where God is revealed to be a giant squirrel and another, a modern retelling of
The Telltale Heart
) and we're all still friends so it can't have been that traumatic for anyone. I often wish we'd kept at it but those years are about claiming your own territory and soon we were spread out across the country chasing different dreams. Mine became music. 
I started playing music, in part, because I knew I'd never be that great at it. That may sound self-defeating but I recognized there were infinite challenges involved with it, especially starting at a relatively late age. I only started playing guitar at 16. I was fantasizing about being Eddie Van Halen at 12 but discovered John Hiatt at 14 and that somehow seemed more achievable. I was always drawn in by a good yarn and being that kid who would crack the album packaging on the bus ride home to read the lyrics first, it was inevitable that I would put those first chords to work not for virtuosity's sake but for narrative's. 
It would take another next two years to convince my pride that it would be okay and necessary to suck at music for a while. You have to understand that my greatest musical accomplishment to that point had been playing the recorder through my nose in elementary school – true.  Even now, when I try to assimilate new music theory, my brain rebels at the math of it.  Being a slow learner combined and a lazy practitioner means the challenges I perceived in my youth are doubled by my stubbornness. I continue to toil away, mastery hilariously elusive. 
Film and theatre were never far from my mind. I'm a compulsive movie watcher and performance would rear its head intermittently – improvised patter during EBH shows, occasional appearances in amateur shorts. In 2009, I was thrust back onto the stage for the first time in 11 years taking over a vacated role in a two-hander in Ottawa. Like most worthy ventures, it was terrifying and rewarding. I was encouraged to see that, though rusty, the tools were still there. That year (and into 2010) was I was laid off from my day job. The subsequent "EI Sabbatical" eventually resulted in the EBH
Mars, Massachussetts
album and my first full-length script in God knows how long – it's amazing what you can accomplish as a gentleman of leisure. I actually just finished a third draft. I will tame that motherfucking script. 
I've kept busy is the long and short of it; chipping in my services wherever and whenever I could as a musician, actor, audio engineer, writer, private eye, philosopher king, circus clown, assassin. More than a few of those projects went sideways while others went tremendously well. The goal was always just doing them, never a merit badge.  Yes, of course, external validation of your work is what allows you to keep creeating but not everyone is going to fawn over your every artistic move, right, every musician who's ever released a double-album? 
Even recently, when I asked Kris, "Are you happy with the movie you made?" He said yes but the question would be if anyone else liked it. Much depends on that: selling the movie, getting investment for future projects, building name recognition - I get it. However, since reactions to your output are beyond your control, there's no more you can do than satisfy your own requirements for good work and keep challenging your abilities. See above, re: hilariously elusive. He didn't need to be told, only reminded. Awaiting judgment on your obsessively attended-to project is a nerve-wracking time. Still, the conversation ended in agreement: if people don't get it, fuck 'em. 
I'd like to think that this attitude is part of why Kris cast me in the first place. He knew I'd be game. And I was and everyone was patient and generous and fun and I hope it's only the first of more opportunities I'll have to be involved with movie making. The work of independent film can be laborious (a busy film set is a little like Doozers building down in Fraggle Rock) but everyone there, pitching in for little or no money, is a believer in the power of the medium. Which the Fraggles will then eat as a snack…? I may have lost my metaphorical way. 
It's all one thing: the music, the writing, the acting, the act of showing-up. It's a way of life; one I have yet been willing to trade for other, more conventional models. There's nothing wrong with those, I'm just not wired that way. I'm glad there will be evidence of that life via
Songs She Wrote..
.  For its part, EBH is repped by Paul on drums for a scene and Brendan's loaned Rickenbacker bass guitar. Our studio gear, accessories and décor make a variety of appearances in the film. There's certainly a bit of G in me and me in he. Mostly pathos. And the restless spirit of the characters Carol, Dave and G are not so dissimilar to those of any of their creators, from Grip to Editor and everyone in between. The characters got to make a record. We got to make a movie. The reasons are academic. We just wanted to make it. So, go see it why dontcha? 
 https://www.facebook.com/songsshewrote
** I'll send updates from Toronto somewhere between the festival and a pilgrimage to the Hockey Hall of Fame. Stay tuned. **